Check out what we did in Tot School
last week
!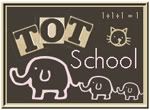 One of Ella's favorite things to do over the past several months is to put things into containers, take (dump!) them out, and put them back in again. After I saw this
particular idea
(straws into a container) I knew Ella would love doing this activity and it would be a great time for her to work on her fine motor skills. I was right - she loved it! She played with this all week long!
Ella is still a little bit too young for me to venture into making cookies from scratch with her (I think she'd get bored with the activity before we finished), but my mom had the idea a while back to make cookies using the pre-made cookie dough. The week after Halloween I spotted these pumpkin cookies on clearance, and thought they'd be perfect for us to make.
Ella loved that they had pumpkins on them since we've been doing a lot of stuff with pumpkins lately.
I turned the light on in the oven, and showed her how to watch for the cookies bake. Of course, she had to have her
monkey
with her! :)
While the cookies finished baking, Ella wanted to color. Once they had cooled off, she tasted the cookies, and loved them! (See the huge bite she is taking, lol!)
We continued to do a little work on recognizing the letter A. She loves to say "A for Apple" but hadn't really been recognizing the letter A when I asked her about it, until last night. Last night she identified the letter A several times! We'll continue to reinforce the letter A this week.
We also did some coloring activities with turkeys (since Thanksgiving is coming up very soon, yay!). I hope to do something along the lines of this Thanksgiving
turkey activity
this week.